Weapons
Bladed Weaponry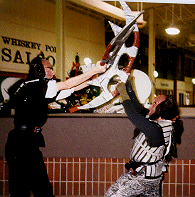 We have all fashions of weapons, but we favor the betleH most of all! With the IKF Fighter Corps based off the NasToj we are a formitable ground assault force...

We have a structured method of this type of combat. Weapons are made from materials that will not severely injure others while engaged in this manner of play. One can get hurt if the rules are not followed.

We preform at public events, private events, and most of the time just for our own amusement! Others are welcome to try this manner of play, but they must be willing to learn our methods before we allow them to participate in a public forum.



These are the weapons that we favor to use with our form of combat... For the rules in which IKF uses to fight... CLICK HERE! Projectile Weaponry The following are the weapons favored by the 111th chuqwI' DI'vI' (111th Ranger Outfit). They are specially designed to expell a 6mm plasic projectile in excess of 350 feet per second. These weapons were designed to emulate a realistic style weapon, and are commonly used by military and law enforcement units for tactical and CQB (or Close Quarters Battle) training. The civilian usage however, is a game very similar to paintball. And that's where the 111th takes the aspects of an enire sport to mix it with the Star Trek Universe.
After all, what are Klingons without combat... (Bored and irritated)... The A&K SSystem M4A1



1:1 Replica of the M4 series weapon. Fires Semi or full auto at 330-350fps Weight is around 6 libs.
This weapon looks and feels real... The Echo 1 M-16A4



1:1 Replica of the final M-16 series weapon. Fires Semi or full auto at 330-350fps Weight is around 6 libs.
This weapon looks and feels real... The Tokyo Mauri G3



1:1 Replica. Fires Semi or full auto at 330-350fps Weight is around 6 libs.
This weapon looks and feels real... .20 Gram 6mm BB


This is the ammunition for most airsoft replicas...
There are weights as high as .30 Gram and .40 Gram (for sniper based rifles of this type). For more information on what airsoft is, please visit: en.wikipedia.org/wiki/Airsoft To see the 111th in action, here's some quick video from one of their battle drills in Early 2007