This area will specify most of the new weapon facsimilies that IKF members have invented and wish to share. IKF takes no responsibility for the safety factors that might make usage of these weapons harmful to persons involved. These weapons are used in a safe enviornment and manner. Any deviation from common sense, and IKF's combat guidelines may result in personal injury.

Safety Factor Levels are IKF's guidelines in which we handle the following fascimilies. While no intention to cause harm to anyone during usage of these weapons is permitted, accidents can happen.

SF Levels are as follows, and may bee seen before each of the weapon specs.

SF LEVEL 0 (SF0): NO risk involved, strictly props.
SF LEVEL 1 (SF1): Mild risk involved if used properly. Minor cut or scrape.
SF LEVEL 2 (SF2): Mild to Moderate risk of small cuts, bruises, injury to eye. No eyewear recommended if used properly.
SF LEVEL 3 (SF3): Moderate caution is advised.*** Use protective eyewear.
***MANDATORY FOR IKF MEMBERS
SF LEVEL 4 (SF4): Major risk involved. This kind of weapon not shown, or used in demo's, events, or activities. Live steel is considered a SF4.

---


Rubber Band Disruptor, Mk I

Constructed of two pieces of 1/2" thick plywood, and two clothespins.
Specs: 6 1/2" in length
4" in height
1 1/2" in width
Effective range of eight feet.
Uses standard size rubber bands as ammunition.
Pattern is: Contact QM/SUPPLY for further information.


---



IKF FOAM betleH / bob'etlh
Construction: 1/2" Foam insulation, 1/4" Corrugated Cardboard, Duct Tape.
See QM-SUPPLY FOR RULES ON USAGE, AND CONSTRUCTION TIPS
Length: (Roughly) 4 1/2'
Width: (Roughly) 1"
Depth: (Roughly) 1 1/2'
Pattern is: Contact QM/SUPPLY for further information.


---



Plasma Cannons (Personal and Team)

Construction: Carpet Tubing, Elastic, Plastic, & Plexiglass.
LENGTH & DEPTH: VARIES... ALL OTHER DATA RESTRICTED AT THIS TIME...
---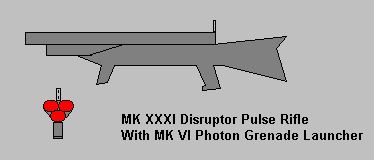 Mark 31-6 Disruptor Pulse Rifle / Photon Grenade Launcher

Construction: Cardboard and cardboard tubing.
Weapon Specifications: RESTRICTED DATA - RED FILE
---